>> 20 November 2011
New hat displays and wig stands in my Etsy shop.
I just uploaded my latest creations of mixed media wig stands and hat displays in my
Etsy shop
and now I want to break it down as to how I made them. If I knew how awesome they were gonna turn out, I would have photographed a full on tutorial. But I didn't. When I started making them, I was just going by intuition so now I need to back track a little bit because I want to talk about some of the techniques and materials I used.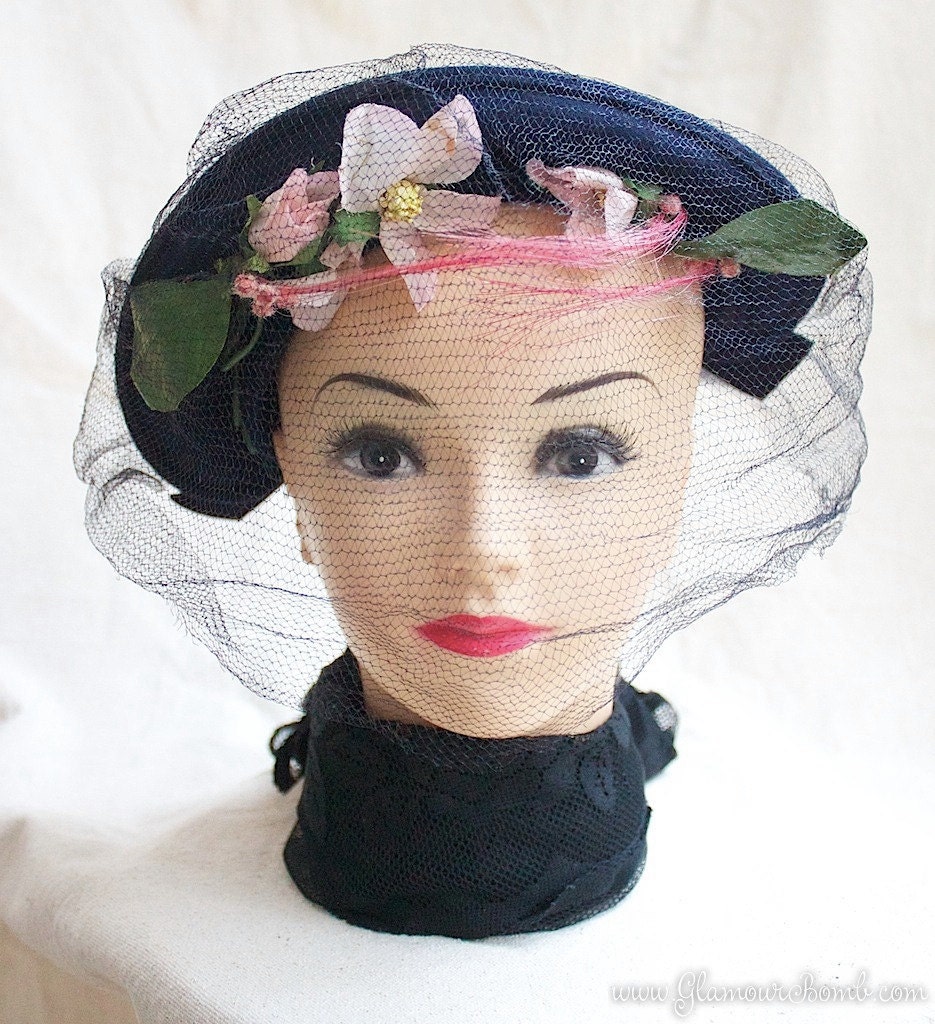 We'll begin with the fact that I wanted some pretty models for my
vintage hats that I've have listed on Etsy
. So far I've used a beauty school dummy head (image left) which I think is OK, but I wanted to try something else.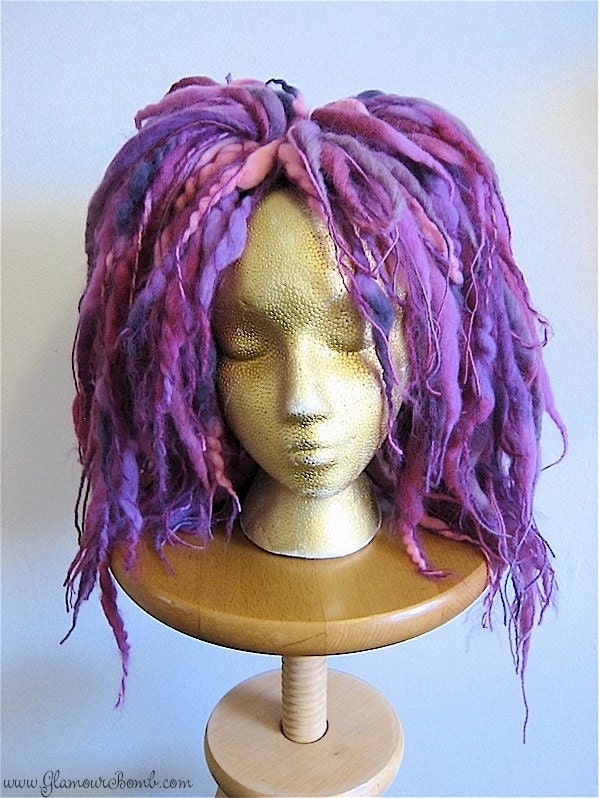 For my
fairy kei wool dread falls
, I use an average Styrofoam wig stand (image right) because I need to pin the falls into the head to make them stay on so I could photograph them. Now I think white Styrofoam looks cheap in a photo so I spray painted it gold to simulate a skin tones. I love the face on these displays, but I hate that Styrofoam. It makes it look like the skin is reptilian which is cool if you're going for that effect, but not good if you're trying to sell dread falls. I mean, wool dread falls are pretty avant garde already, but the reptilian skin is distracting and freakish and I think takes away from the product you're trying to sell.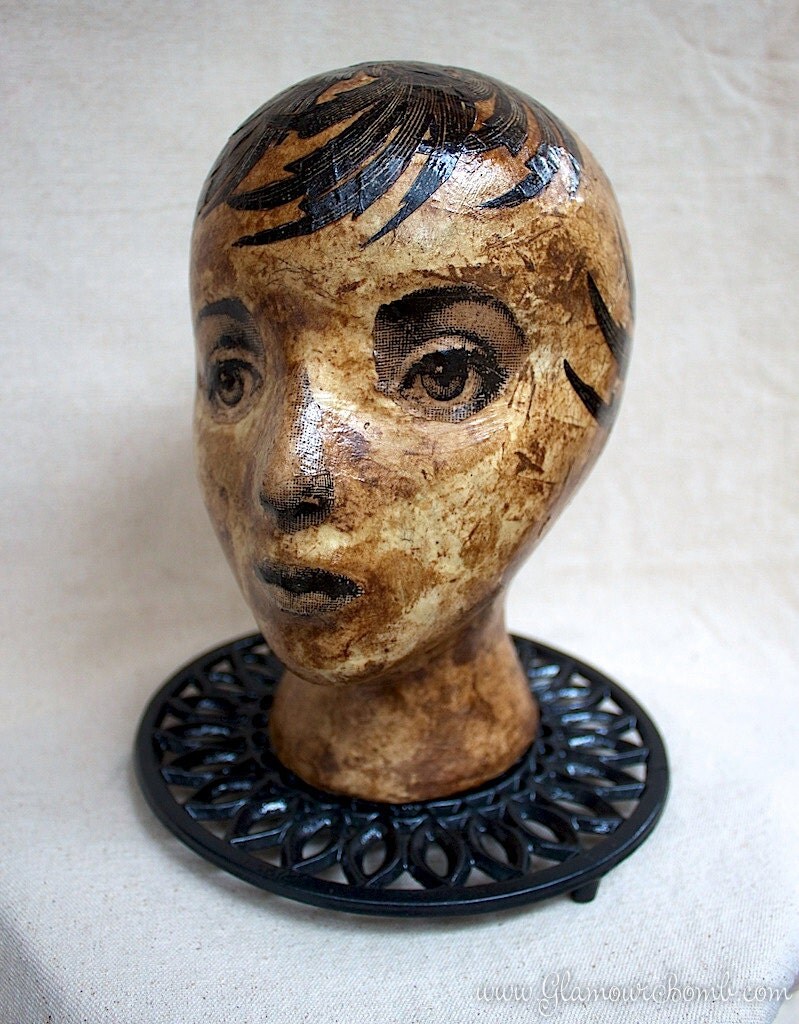 So here comes my ideas for hat displays for my latest round of vintage hats. I took the same Styrofoam head style and made "
Becky
" (image left). I paper mached her with coffee filter paper and wallpaper adhesive that I got at Lowes with the idea that the face's skin would be smoother. I made three layers of paper mache and let it dry for a day in between. Then I sanded it smooth.
This is the paper mache technique I'm talking about: coffee filters and wallpaper adhesive! I had both of these on hand so instead of running out to get more supplies, I just used what I got with great results. Just shred the coffee filter paper by hand and as for the paper mache paste, simply add water to a glop of wallpaper adhesive until you get a consistency you like. I can't really advise as to what the water to adhesive ratio is. I just added water and stirred it with the wallpaper adhesive until it was thick and creamy.
What's great about using these two materials for a paper mache pulp is that when I went to color the head with
walnut ink (that I also make and sell on Etsy)
the paper mache grabbed the ink the way I wanted it to. Also, wallpaper adhesive is anti-bacterial. It's meant to be that way so that mold doesn't grow between the paper and the drywall when used as indicated. So that means your paper mache work won't rot either!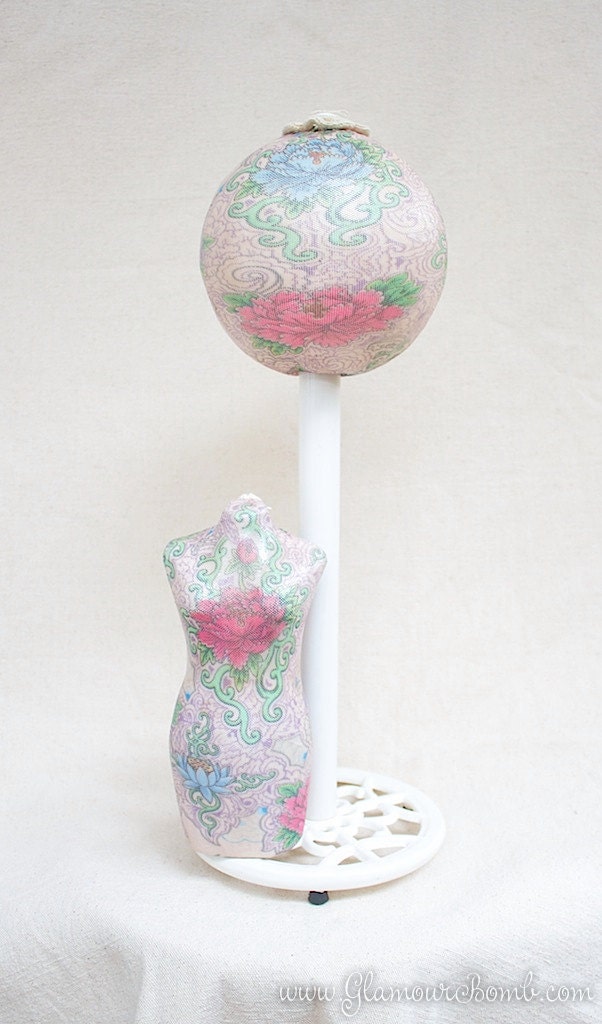 Now for shabby
floral hat display
(image right). I saw in the blog
DIY Lunacy
how Madz made a hat stand using Styrofoam ball. I thought a paper towel holder would be perfect as a base because I wanted to mount the paper mache dress form you see pictured on the hat stand to use as a jewelry display.
To make this, again I paper-mached the Styrofoam ball with coffee filters and wallpaper adhesive to get a smoother texture. Originally I thought I was going to use the piece of metal that's on the side of the towel holder to mount the dress form but it just wasn't positioned where I wanted it to so I just removed the stick completely and mounted the dress form (as well as the ball) to the base using
Weldbond
glue.
Let's talk about Weldbond glue! It's pretty amazing! All this time I've been using E-6000 for any and all serious hardcore adhesion applications. But now I think if I can use Weldbond on a project, I'll opt for that instead. I love it because it's just as strong as E-6000 but not as stinky. So no fumes and no headaches.
Weldbond is also elastic and stretchy like E-6000 so things you adhere with it won't crack off as easily like hot glued projects. I also love Weldbond because it acts like your average Elmer's white glue when you apply it, so therefore I have a better experience in working with it to get the results I want. E-6000 is more gooey and tacky like a relentless booger and I find it really hard to work with. But Weldbond is water based glue therefore if you get it on something like your clothes, you can rinse it off with cold water. Just be sure to do it RIGHT AWAY before the glue hardens and sets. Finally, Weldbond can be tinted with tea, paint and even nail polish.
Now I don't want to bash E-6000. It's still great stuff. I've been using it for years and will continue to do so with the right application to a project. For the record Weldbond has it's limitations but they weren't applicable to my hat stands and wig displays so I gave it a try and as you can tell, I really like it.
As things turned out, both these hat displays are really pretty in and of themselves but as a photographer's model for my vintage hats I find that they distract the eye. I can't tell whether to look at the featured hat or look at the model. I think they work as a unique piece of home decor or even better as a display in a boutique or crafts booth. So it looks like I'll keep experimenting with some ideas but use the old beauty school dummy head until I get the right model!
For the records, I am just a crafty vixen and not an employee for Weldbond. Furthermore, I have received no compensation to blog about them. However, if you work for Weldbond and you're reading this blog, can you please kick down some free product for me? I'll try to think of more projects to make with it! =) And if you're a rep for E6000, if you guy's kick down some free product I'll come up with unique and fantastic project that only E6000 can handle. XD